There was a noise, followed by a few gasps as a young woman collapsed near the back of the room. David Cameron strode over to check she was OK, the concern on his face entirely genuine. Project Fear had just claimed its first unintended victim. As the woman was helped back to her feet, the prime minister relaxed a little, but was in no mood to put further lives at risk. "I'm not about Project Fear," he declared firmly. "I'm about Project Fact."
The difference between Project Fear and Project Fact wasn't immediately obvious. A greater emphasis on frightening facts, rather than factual fears.
Of course everything would still be OK if Britain did decide to leave the EU but no one should be under any illusions that it would be a Great Leap in the Dark; a world of continual night where the country would be left at the bottom of every global pile going. Trade deals? We might get something negotiated within a decade, but there were no guarantees. That kind of thing. Those kind of facts.
The second week of the EU referendum campaign found Dave in front of his first young people; a group of students from University Campus Suffolk in Ipswich along with some sixth-formers bussed in for the occasion.
Dave struggles with young people, not knowing whether to pitch himself as "enthusiastic young dad" or "boring old man" and invariably ending up somewhere a bit patronising in between. So it was on Monday, even with the benefit of being introduced by the local MP, Ben Gummer, a man who is 38 going on 68. Being threatened with dodgy hamburgers as a kid by his father, John Gummer, has aged Ben horribly.
Dave bounced to the stage and began with the familiar Chippendave routine of ripping off his jacket as he walked to the podium. Unlike in Slough the week before, there was no Karren Brady to pick it up, so the jacket lay on the floor unstroked and unloved.
"Hi," said Dave cheerily, giving his audience a double thumbs up. The slightly desperate Blue Peter presenter act didn't produce the desired response of whoops, cheers and 'Hi Daves', and Dave's mind went into a mini-meltdown. Young people. Scary. How do you relate to them? Then it all came back to him. You talk about the stuff they learnt on the GCSE History syllabus.
"I want you to remember what Europe was like 70 years ago," he said. "Then we were butchering each other in two world wars. I don't want that to happen again. I want there to be peace, which is why I believe Britain is better off remaining in Europe."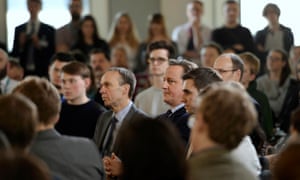 Project Fact. Brexit would almost certainly trigger another world war. Having got his audience's attention, Dave then slipped into his familiar auto-pilot. Once in a lifetime opportunity. Stronger, Safer, Better Off. And Alive. Project Fact. Brexit would almost certainly make us Weaker, Unsafer, Worse Off. And Dead.
Project Fact extended into questions from the audience. Who wanted Britain to remain in the EU? Australia and the US. Who wanted Britain to leave? North Korea and Isis.
Project Fact. Would Scotland leave the UK if Britain left the EU? That was certainly the impression Dave hoped to give. "Obviously I would love Scotland to remain but my hands will be tied," he declared, rootling around inside his trouser pocket for some of George Osborne's bondage gear to manacle himself. Project McFact.
The trickiest questions concerned the divisions within the Conservative party rather than within the EU. How could ministers maintain even a semblance of collective responsibility over domestic policy when they were ripping each others' throats out over Europe?
Here Dave struggled. "The thing is," he said, as he tried to explain why Brexit ministers were to be denied government papers, "Iain Duncan Smith, Chris Grayling and Priti Patel have all been spectacularly bad at their jobs when they were allowed to see the briefing papers, so it's basically just an experiment to see if less information will help them to be a little better." Project Fact.
At this point the PA system failed and loud electronic shrieks echoed throughout the auditorium. Up in the control tower, Patel grinned maniacally. She had just given her own feedback on Project Fact.