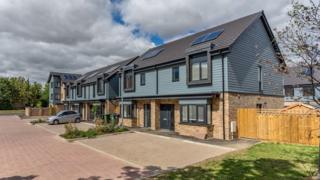 Plans to invest £534m to build 10,000 new homes have been unveiled at the announcement of a new merged East of England housing association.
Norfolk-based Flagship Group and Victory Housing Trust have agreed to work in partnership, managing 28,000 homes.
The homes, which will be built over the next 10 years, will also help support 400 construction jobs.
The partnership aims to save more than £38m through the merger.
A Flagship Group spokesman said of the 10,000 homes, which would be built in East Anglia, about 7,200 would be for rent, 1,800 would be earmarked for low-cost home ownership and the remainder sold at market value.
Peter Hawes, its chair, said: "We are both strong and successful housing associations, but together we can be even stronger and more successful.
"Collectively, we have enhanced financial strength, greater effectiveness and efficiency, the ability to invest more in our existing homes, and support our customers."
---
The housing associations
Victory Housing Trust owns and manages more than 5,000 properties in Norfolk
The majority of its properties are in the north of the county
Based in North Walsham, Victory employs 90 staff and has an annual turnover of £26m
Flagship Group owns and manages more than 22,700 homes for people in housing need in the east of England
Based in Norwich, it employs 866 staff and in 2017-18, it had an annual turnover of £133.7m