A renowned harpist who has performed for the Queen and several prime ministers has been jailed for sexually abusing a schoolboy in the 1980s. Danielle Perrett was sentenced alongside her former fiance Richard Barton-Wood. They were found guilty of indecently assaulting the boy in separate incidents while he was in his early teens.
Both Perrett, 59, and Barton-Wood, 68, had denied all charges, but they were convicted following a four-week trial at Ipswich crown court. Perrett, of Alpheton, Suffolk, was found guilty of six counts of indecent assault and sentenced to four years and nine months in prison. Barton-Wood, of Wymondham, Norfolk, was found guilty of seven counts of indecent assault and of one count of attempted indecent assault. He was also sentenced to four years and nine months.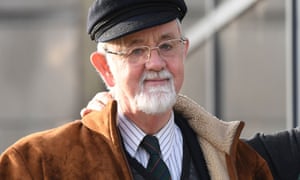 The judge, Rupert Overbury, told the defendants they had been regarded as "pillars" in their communities, "one of you a teacher and dedicated employee of the museums service who gave time to his community; the other a world-famous harpist with a reputation for kindness and integrity".
He continued: "Both of you had a darker side of your character. A side that manifested itself in the systematic abuse of a teenage boy."
The victim had told jurors that Barton-Wood worked as a substitute teacher at his school. He said Barton-Wood sexually assaulted him on sailing and camping trips, and that on separate occasions Perrett had taken his virginity and performed sexual acts on him.
Perrett and Barton-Wood had claimed the incidents did not happen and that their accuser was trying to blackmail them.