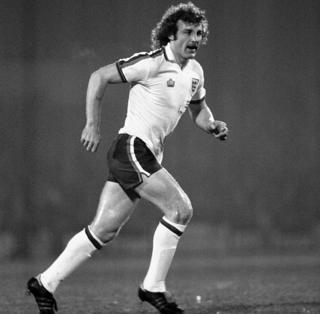 A funeral for ex-England and Ipswich Town defender Kevin Beattie is due to be held on Friday.
The club asked fans to gather at Sir Bobby Robson's statue at Portman Road at 14:30 BST as the funeral procession passes to "salute" Beattie.
A private service for family, friends and former teammates will take place later.
Beattie is widely considered by fans and former players of Ipswich to be the club's best-ever player.
Former Tractor Boys player Allan Hunter said Beattie, who died last month aged 64, was "absolutely magnificent".
The club said in a statement: "Fans are invited to salute a Town legend as Kevin Beattie's funeral procession passes down Portman Road on Friday.
"Members of the club staff are expected to be joined by Town fans looking to say 'farewell' to Kevin, voted Blues' best-ever player by supporters."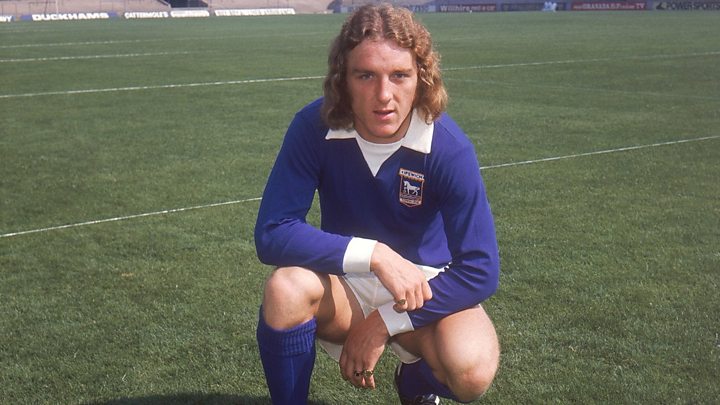 Hundreds of supporters have signed a book of condolence in Beattie's memory which will remain available to sign in the Planet Blue shop at Portman Road until 15:15.
Hunter, who played for Ipswich between 1971 and 1982, said Beattie was "absolutely magnificent. Unbelievable in the air and on the ground. He was so strong".
The 'complete footballer'
Born in Carlisle, Beattie moved to Ipswich when he was 15, going on to make 296 starts for the club and scoring 32 goals.
Sir Bobby Robson, who died in 2009, said Beattie was the "best defensive player that this country has produced".
Beattie's career was hampered by injuries and it was all but over when he left Ipswich at the age of 28.
He featured in the film Escape to Victory, with his skills shown on the pitch for Michael Caine's character, and the two became friends.
Beattie had a cooler relationship with film star Sylvester Stallone, after the Rambo actor challenged him to an arm wrestle. "I ended up beating him and I don't think he talked to me again for the rest of the film," Beattie recalled.
After he died, Beattie's teammate and former England captain Terry Butcher described him as "the complete footballer".